Most people connect to REX from MyUMBC or PeopleSoft Finance while on campus without any issue.
Some people have been reporting that they are getting the following error when connecting while working remotely: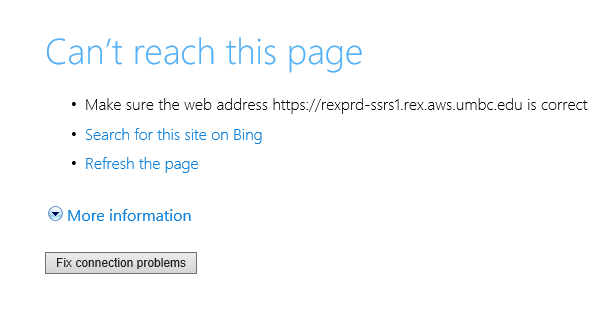 When connecting remotely myUMBC and PeopleSoft Finance do not require a VPN to connect. However, REX does require the VPN to connect.
If you're using a UMBC owned device or using a home machine, you'll need to be on the Global Protect VPN, which can be accessed by going to gpvpn.umbc.edu.
Installation instructions can be found here: https://gpvpn.umbc.edu/https/wiki.umbc.edu/display/faq/Getting+Connected+with+the+New+UMBC+GlobalProtect+VPN
If you're using a personal device, you should be able to connect using VMware. Instructions can be found here:
https://wiki.umbc.edu/pages/viewpage.action?pageId=49610947